Vientiane is the capital and largest city of Laos, situated in the Mekong river. Vientiane became the capital in 1563 due to fears of a Burmese invasion.
During French rule, Vientiane was the administrative capital and due to economic growth in recent times, it has become the economic centre of Laos.


The estimated population of the city is 754,000 (2009)
Although a small city still, the capital experiences a major influx of tourist.
The city contains many temples and Buddhist monument with Pha That Luang, a Buddhist stupa, one of the most famous in Laos. It is the most important national cultural monument and very popular amongst foreign tourist. The original was built in 1566 by King Setthathirath, and was restored in 1953. The golden stupa is 45 meters tall and is believed to contain a relic of the Lord Buddha.
Another site that is also popular is Wat Si Muang. The temple was built on the ruins of a Khmer Hindu shrine, the remains of which can be seen behind the ordination hall. It was built in 1563 and is believed to be guarded by the spirit of a local girl called "Si". Legend says that Nang Si, who was pregnant at the time, leapt to her death as a sacrifice, just as the pillar was being lowered into the hole. In front of the temple stands a statue of King Sisavang Vong.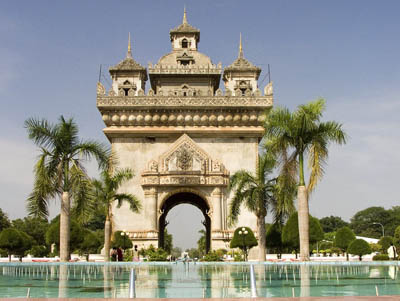 The memorial monument, Patuxai, began construction in 1957 and completed in 1968, is perhaps the most prominent landmark in the city. While the arc de Triomphe in Paris inspired the architecture, the design incorporates typical Lao motifs including "Kinnari", a mythical bird woman. Energetic visitors can climb to the top of the monument, which reveals an excellent panoramic view of the city.
Buddha Park was built in 1958 by Luang Pu Bunleua Sulilat and contains a collection of Buddhist and Hindu sculptures, scattered amongst gardens and trees. The park was built about 28 kilometres south of Vientiane at the edge of the Mekong River.

References:




"Vientiane"

. Farlex Encyclopedia

. Retrieved 25 November 2010

.




GeoHive - Laos population statistics




Vientiane marks 450 years anniversary




"Far East and Australasia"

. Retrieved 25 November 2010

.




Far East and Australasia 2003 - Google Books




"World Weather Information Service — Vientiane"

.

World Meteorological Organisation

. Retrieved 2010-10-31

.




Organization

. Retrieved 14-05-2010

.




Climatological Information for Vientiane, Laos

, accessed 24 April 2012.




Lao National Tourism Administration - Tourist Sites in Vientiane Capital




Wat Si Muang - Vientiane - Laos - Asia for Visitors




http://www.china-briefing.com/news/2008/01/23/china-gives-southeast-asias-poorest-first-time-access-to-consumer-goods.html




National University of Laos