Phonsavan (population 37,507) is the new capital of Xieng Khouang Province, Laos. The name stands for "hills of paradise".
The countryside is soon dominated by green hills and pine forests. Villages consist of colourful wooden houses. Cattle raising is one of the main agricultural activities and Hmong cowboys with brown and violet cowboy hats are a common sight.

During Hmong New Year there are even bullfights in the city. Phonsavan was built in the late 1970s and replaced the old Xieng Khoung (today: Muang Khoun) which had been destroyed during the Second Indochina War.

Phonsavan's most famous attraction is the nearby Plain of Jars, which has been nominated for UNESCO World Heritage status.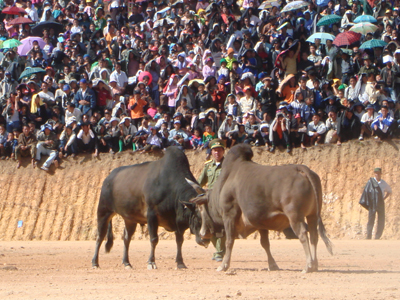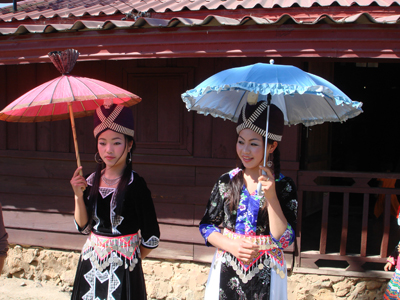 References:
Paek District Office, Statistics Department. Paek District has a population of 70,215. Xiengkhouang Province has ca. 250,000 people. The borders from town to district are not very clear, and Phonsavan administratively is a collection of villages.
http://www.theage.com.au/travel/its-a-mystery-plain-and-simple-20090730-e2mq.html
Provincial Tourism Department Xieng Khouang, A Guide to Xieng Khouang
Martin Stuart-Fox The Lao Kingdom of Lao Xang: Rise and Decline, White Lotus Press, 1998
http://www.infomekong.com/laophuan.htm
personal communication with people in Phonsavan. The high density of Western Union and Moneygram outlets even in small villages is another indicator
www.mulberries.org
www.maginternational.org
http://women.timesonline.co.uk/tol/life_and_style/women/article7036794.ece
http://maic.jmu.edu/journal/13.1/feature/Bruinooge/bruinooge.htm
A Guide to Xieng Khouang Mountain Province in Northern Laos, Provincial Tourism Department