Patuxai literally meaning Victory Gate or Gate of Triumph, formerly the Anousavary or Anosavari Monumentm (known by the French as Monument Aux Morts) is a war monument in the centre of Vientiane, Laos, which was built between 1957 and 1968.


Patuxai is dedicated to those who fought in the struggle for independence from France. In romanising the name from the Laotian language, it is variously transliterated as Patuxai, Patuxay, Patousai and Patusai. It is also given the name of Patuxai Arch or the Asian version of Arc de Triomphe of Vientiane as it has general resemblance to the Arc de Triomphe in Paris; however, it is typically Laotian in design, decorated with many Buddhist mythological figurines such as of kinnari (half-female, half-bird figures).


The monument has five towers that represent the five principles of coexistence among nations of the world. They are also representative of the five Buddhist principles of "thoughtful amiability, flexibility, honesty, honour and prosperity".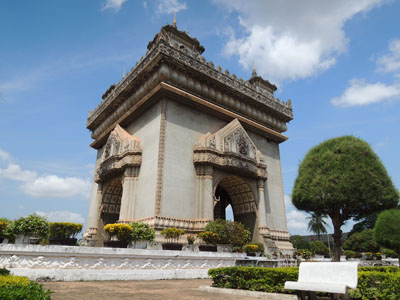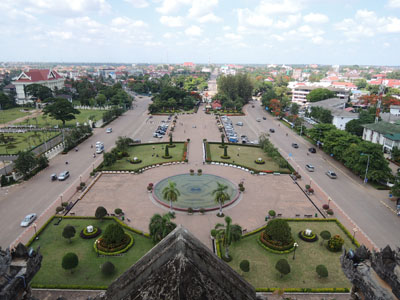 References :
"Patuxay Monument Revisited". Vientiane Times. 2009-11-02. Retrieved 2010-03-30.
Atiyah, Jeremy; Rough Guides (2002). Rough guide to Southeast Asia. Rough Guides. p. 565. ISBN 1-85828-893-2. Retrieved 2010-03-30.
"Patuxay Arch in Vientiane Laos". Lonely Planet. Retrieved 2010-03-30.
fay, Kim (2005). To Asia with love: a connoisseurs' guide to Cambodia, Laos, Thailand & Vietnam. Things Asian Press. pp. 65–67. ISBN 0-9715940-3-1. Retrieved 2010-03-30.
"Patuxay Monument is expected to draw big crowds". Laos Voices. 2009-08-08. Retrieved 2010-03-30.
White, Daniel (2010). Frommer's Cambodia & Laos. Frommer's. pp. 230–232. ISBN 0-470-49778-5. Retrieved 2010-03-30.
"Patuxay In Vientiane". Retrieved 2010-03-30.
"Vientiane - Patou Say" (in German). Sgoldbach. Retrieved 2010-03-30.
Laos Diplomatic Handbook. Int'l Business Publications. 2007. p. 138. ISBN 1-4330-2885-9. Retrieved 2010-03-30.
Burke, Andrew; Justine Vaisutis (2007). Laos. Lonely Planet. p. 97. ISBN 1-74104-568-1. Retrieved 2010-03-30.