The Bayon is a well-known and richly decorated Khmer temple at Angkor in Cambodia. Built in the late 12th century or early 13th century as the official state temple of the Mahayana Buddhist King Jayavarman VII, the Bayon stands at the centre of Jayavarman's capital, Angkor Thom. Following Jayavarman's death, it was modified and augmented by later Hindu and Theravada Buddhist kings in accordance with their own religious preferences.


The Bayon's most distinctive feature is the multitude of serene and massive stone faces on the many towers which jut out from the upper terrace and cluster around its central peak. The temple is known also for two impressive sets of bas-reliefs, which present an unusual combination of mythological, historical, and mundane scenes. The current main conservatory body, the Japanese Government team for the Safeguarding of Angkor (the JSA) has described the temple as "the most striking expression of the baroque style" of Khmer architecture, as contrasted with the classical style of Angkor Wat.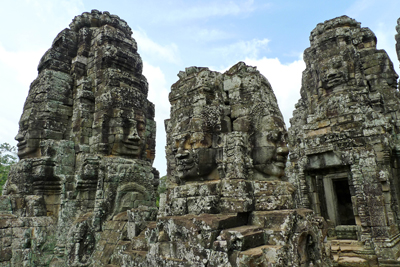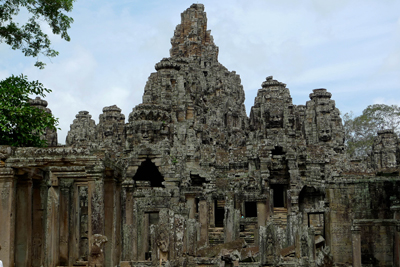 References:
Coedès, George. Pour mieux comprendre Angkor (Hanoi: Imprimerie D'Extrême-Orient, 1943), esp. Ch.6, "Le mystère du Bayon," pp. 119–148.
Freeman, Michael and Jacques, Claude. Ancient Angkor. River Books, 1999, pp. 78 ff. ISBN 0-8348-0426-3.
Glaize, Maurice. The Monuments of the Angkor Group. Translated into English from the French, revised 1993 and published online at theangkorguide.com. (The link takes you directly to the section of this work having to do with Angkor Thom and the Bayon.)
Rovedo, Vittorio. Khmer Mythology: Secrets of Angkor (New York: Weatherhill, 1998), pp. 131 ff.
JSA Bayon Master Plan Accessed 17 May 2005.
JSA Bayon Symposia Accessed 17 May 2005.